Chicory greens nutrition facts
Chicory greens consists of several closely related leafy vegetables in the composite (Asteraceae) family and Cichorioideae subfamily. The plants probably originated around the Mediterranean region and Asia minor regions.
Scientific name: Cichorium intybus L.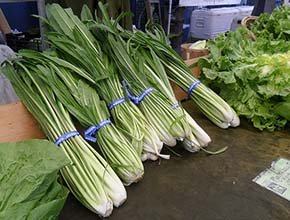 Catalogna Brindisina-Note for long, pale midrib and dandelion like leaves.
Photo courtesy:Deena
Chicory has been in cultivation for centuries for its leaves, flowers and roots; culinary as well as medicinal uses. The plant is a tough herbaceous perennial, sometimes grown as an annual crop, with a large deep taproot that exudes milky sap. There are several varieties of chicories. The wild chicory is very bitter and has short stems that are formed of green toothed (jagged) leaves similar to dandelion.
Varieties of chicory greens
It is eaten as a salad vegetable when young and tender. Common names for the cultivated types include-
Belgian endive or witloof (Cichorium endivia var. Foliosum) is a popular winter season vegetable in Europe, especially in Italy. It features smooth cream-colored leaves, compressed into 10 to 12 cm long compact heads.
The curly endive (Cichorium endivia var. Crispum) is mainly eaten as a salad vegetable. It's green narrow very lacy and pointed leaves (frisee) grow in rosette form. It has whitish or reddish ribs and is relatively bitter.
Broad leaf endive (Cichorium endivia var.Latifolia) or escarole features broad, paler, less twisted leaves. Escarole tends to be less bitter than the curly leaf endive. It can be eaten like other greens either fresh as part of a green salad, or sautéed or chopped and added into soups and stews.
Catalogna Brindisina-Puntarelle (meaning shoots in Italian) is another popular variant of Italian chicory. It is also known as cicoria di catalogna or cicoria asparago. Its frilly, elongated heads are characterized long, pale midrib and dandelion shaped leaves, measuring in length about 40-50 cm. Puntarelle greens have an appealing bitter taste.
Sugar leaf chicory (Cichorium endivia var. Porphyreum) features lettuce-like leaves, folding into a compact head that are green on the outside and pale-yellow inside. It has a quite bitter taste leaves which becomes milder when blanched.
Young, tender wild chicoy leaves can laso be eaten raw as salad greens. Its older leaves can also be braised/sauteed to reduce the bitterness.
Health benefits of Chicory greens
Chicory greens are very low-calorie leafy vegetables. 100 g fresh leaves carry just 23 calories; however, the greens are packed with numerous health benefiting phytonutrients essential for overall wellbeing.
Chicory plant parts carry numerous medicinally important compounds such as inulin, sesquiterpene lactones, alkaloids, coumarins (vitamin K), vitamins, minerals and plant sterols. Research studies suggest that high inulin and fiber content in chicory help reduce blood glucose and LDL-cholesterol levels in diabetes and obese patients.
Chicory leaves hold excellent levels of Vitamin-A and β-carotene. 100 grams of fresh leaves compose astoundingly 5,717 IU (190% of daily recommended levels) of vitamin-A. Carotenes convert to vitamin-A inside the human body. Furthermore, vitamin-A required for maintaining healthy mucosa and skin. Also, it is also an essential vitamin for good eyesight. Consumption of natural vegetables/greens rich in vitamin-A helps to protect against lung and oral cavity cancers.
The chicory leaves also carry amazingly high amounts of lutein and Zeaxanthin (10,300 μg/100 g), are important dietary carotenoids. Zeaxanthin is selectively absorbed into the retinal macula lutea in the eyes where it thought to provide antioxidant and protective light-filtering functions. Thus, it helps prevent retinal detachment and offer protection against "age-related macular degeneration disease" (ARMD) in the older adults.
Chicory leaves are very good green leafy vegetable sources of vitamin-K; 100 g provides about 247 mg or 215% of recommended intake. Vitamin-K has a potential role in bone health through promoting osteoblastic (bone formation and strengthening) activity. Adequate vitamin-K levels in the diet help limiting neuronal damage in the brain; thus, it has an established role in the treatment of patients of Alzheimer's disease.
100 g of fresh chicory leaves contain 24 mg or 40% of daily recommended levels of vitamin-C. Vitamin-C is a powerful antioxidant, which helps the body develop resistance against infectious agents and scavenge harmful oxygen-free radicals.
Further, it contains good amounts of many essential B-complex groups of vitamins such as folic acid, pyridoxine (vitamin B6) and thiamin (vitamin B1) and niacin (B3). Together, these vitamins play vital role as cofacors in fat, protein, and carbohydrate metabolism.
Additionally, the greens carry good source of minerals like calcium (10%), manganese (18%), copper, iron, and potassium. Manganese used as a co-factor for the antioxidant enzyme, superoxide dismutase. Potassium is an important intracellular electrolyte helps counter the hypertensive effects of sodium.
See the table below for in depth analysis of nutrients:Chicory greens (Cichorium intybus L.), raw, Nutritive value per 100 g (Source: USDA National Nutrient data base)

| Principle | Nutrient Value | Percentage of RDA |
| --- | --- | --- |
| Energy | 23 Kcal | 1% |
| Carbohydrates | 4.70 g | 3.5% |
| Protein | 1.7 g | 3% |
| Total Fat | 0.30 g | 1% |
| Cholesterol | 0 mg | 0% |
| Dietary Fiber | 4 g | 10% |
| Vitamins | | |
| Folates | 110 µg | 27% |
| Niacin | 0.500 mg | 3% |
| Pyridoxine | 0.105 mg | 8% |
| Riboflavin | 0.100 mg | 7.7% |
| Thiamin | 0.060 mg | 5% |
| Vitamin A | 5,717 IU | 190% |
| Vitamin C | 24 mg | 40% |
| Vitamin E-α | 2.26 mg | 15% |
| Vitamin K | 297 µg | 215% |
| Electrolytes | | |
| Sodium | 45 mg | 3% |
| Potassium | 420 mg | 9% |
| Minerals | | |
| Calcium | 100 mg | 10% |
| Copper | 0.295 mg | 33% |
| Iron | 0.90 mg | 11% |
| Magnesium | 30 mg | 8% |
| Manganese | 0.429 mg | 18% |
| Phosphorus | 45 mg | 9% |
| Phyto-nutrients | | |
| Carotene-ß | 1300 µg | — |
| Carotene-α | 0 µg | — |
| Cryptoxanthin-ß | 3,430 µg | — |
| Lutein-zeaxanthin | 10,300 µg | — |
Selection and storage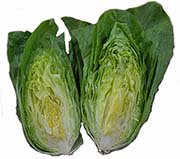 Sugar leaf chicory (Cichorium endivia var. Porphyreum). Photo courtesy: Suzie's Farm.
Chicory greens best available during winter months, although hydrophonically grown fresh endive can be available year-round in the USA. Choose the greens with a pale centre surrounded by firm shiny crisp leaves that are very curly and vivid green. Avoid wilted, tough, discolored yellow leaves.
To store, place chicory greens or escarole in a perforated plastic bag, or wrap loosely in a damp paper/cloth. Avoid placing in close packs. Discard wilted or brown-tipped leaves. Rightly stored greens could last for 1 week in the refrigerator set at appropriate humidity.
Preparation and serving methods
Just before using, wash chicory and escarole quickly in cold water without letting it soak. Remove any withered leaves and hard sections. Cut and season only just before using.
Chicory and escarole are used in the same way as lettuce or spinach, which they replace or combined with.
Here are some serving tips:
Raw, especially served dressed with a vinaigrette or mayonnaise. They form an interesting mix with other greens.
Chicory can be braised or added to soups at the end of cool g time for flavor. White bean and escarole soup is popular South Italian recipe.
Belgian endive is used raw in salads or braised and served as a vegetable.
It can also be braised, then chopped used in flans, omelettes, and quiche.
Safety profile
Chicory greens widely consumed all over Europe and American states. Although this green leafy vegetable contains high concentrations of bitter glycosides and inulin, no known side effects so far notified when used in moderate quantities.(Medical disclaimer).
Source: https://www.nutrition-and-you.com/chicory-greens.html