21 July, 2018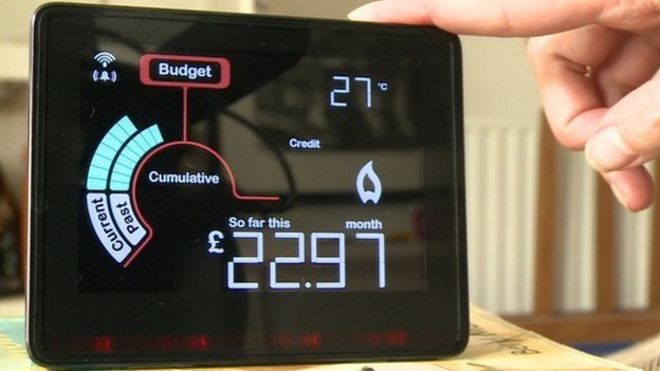 People who have smart meters installed are expected to save an average of £11 annually on their energy bills, much less than originally hoped.
A report from a parliamentary group now predicts a dual fuel saving of £26.
In a critical report, the 92 MPs and peers also said the government was likely to miss its own deadline to have the £11bn switchover completed.
Up to 53 million smart meters were to be installed in 30 million homes and businesses by the end of 2020.
A smart meter is designed to replace traditional gas and electricity meters.
It automatically sends usage data to suppliers via the mobile phone network, and comes with a display showing users how much energy they are using – and the cost in pounds and pence.
Conservative MP Grant Shapps, the chairman of the British Infrastructure Group (BIG), said the programme had been "plagued by repeated delays and cost increases, with suppliers now almost certain to miss the 2020 deadline, and programme benefits likely to be slashed even further".
Speaking on BBC Radio 4's Today programme, Mr Shapps said one of the reasons for the "mess" was that "first generation" smart meters, which do not always work when a customer switches supplier, will continue to be rolled out until next year.
He added: "We need to shift to a reliable timetable, we need to quit installing obsolete old meters… and we need to have the regulator become a lot tougher."
The government said smart meters were already putting consumers in control of their energy use, while industry body Energy UK said suppliers were committed to meeting the deadline of seeing all households and businesses offered a smart meter by 2020.
Smart Energy GB, which is promoting the roll out of the smart meters, said: "All smart meters mean an end to estimated billing and give people a greater understanding of their energy use.
"Smart meters are also making prepay cheaper and more convenient, bringing the way we pay for our energy up-to-date, enabling customers to top up online or over the phone."
https://www.bbc.co.uk/news/av/embed/p06fbw7b/44903471
Customers have financed the smart meter programme by paying a levy on their energy bills, while suppliers have frequently blamed the levy for rising costs.
However, the report claimed most of the eventual savings would be made by energy firms, rather than consumers.
"The roll-out is consequently at serious risk of becoming yet another large scale public infrastructure project delivered well over time and budget, and which fails to provide energy customers with a meaningful return on their investment," said Mr Shapps.
Smart meters and the 'clean vehicle revolution'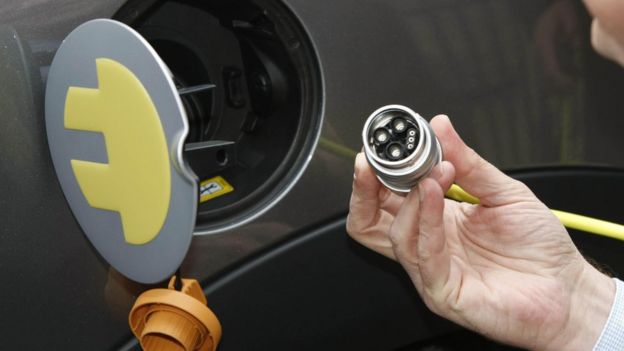 By Roger Harrabin, BBC environment analyst
Smart meters are supposed to play a major part in the UK's clean vehicle revolution by allowing electric cars to charge overnight when wind power is strong, demand is low, and energy is cheap.
It's just as well, as by 2030 the government wants half of new cars to be powered by electricity or fuel cells as part of a global move to combat climate change and clean up pollution.
The promise of variable charging has encouraged National Grid to re-assure the public that supplying extra energy for vehicles won't be a big deal.
So far so good. But it's alleged that many of the first generation smart meters won't be intelligent enough to offer sophisticated variable rate charging.
Energy saving expert Andrew Warren says that means extra energy will need to be generated to charge electric cars – which will put up costs for everyone.
Follow Roger on Twitter
The MPs also said some suppliers had been engaging in "scare tactics" to convince customers to have a meter installed, in order for targets to be reached.
'Going dumb'
Such tactics included firms telling customers that their bills would go up unless they agreed to have a meter, or that their old meter was dangerous.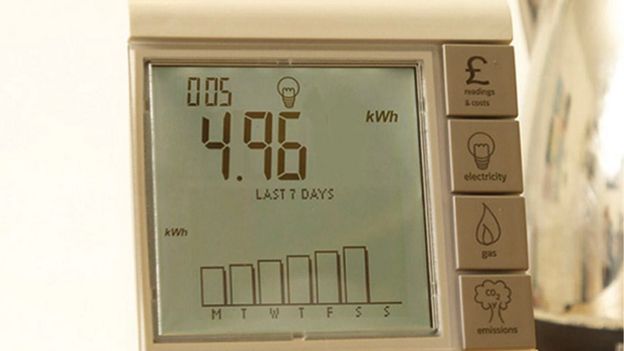 The report also said that:
More than half of smart meters "go dumb" after switching, meaning they stop communicating with the supplier
Up to 10% of smart meters don't work, because they are in areas where mobile phone signals are not strong enough
By the end of the year only 22% of households will have the meters installed, meaning the 2020 deadline is certain to be missed
The eventual cost of the programme could even outweigh the benefits
The report said the government should now plan for the roll-out to be completed by 2022, and that supply of the new generation of smart meters should be sped up.
They also said customers should be automatically compensated for each day their meter malfunctions.
'Ongoing success'
A spokesman for the Department for Business, Energy and Industrial Strategy said the smart meter roll out was part of plans to drive more competition and consumer choice.
He said an annual saving of £11 per bill equated to an overall reduction of £300m, and this was expected reach £1.2bn, or £47 per household, by 2030.
However the government said it was wrong to call dumb meters "obsolete".
"They offer smart services now and will continue do so as they are enrolled into the smart metering network," he said.
"However we welcome ideas on how to ensure the ongoing success of the smart meter roll out and are already working with Ofgem on issues raised in the report."
The National Audit Office is already investigating the economic case for the roll-out of smart meters, and is due to report sometime this summer.
Energy UK said: "Suppliers have installed more than 11 million smart meters. However, as with any large and complex infrastructure programme there will be challenges to overcome."
Source: https://www.bbc.co.uk/news/business-44903471
RELATED:
A Reminder – Your Rights in Relation to Smart Meters
It comes as no surprise that a number of big energy firms are starting to really push hard on the Smart Meter 'gas' pedal.  Advertising campaigns online and offline, integrated social media/direct mail campaigns, etc. are all trying to sell us on the spurious and totally unsubstantiated 'benefits' of placing our utility supplies on the web.
Despite the big marketing budgets, however, it seems as though the rhetoric just isn't 'washing' – and this is consequently encouraging some companies to occupy the moral low ground and lie to customers about their rights and obligations.  One company in particular has, on multiple occasions, grossly mislead/lied to people about their rights in regard to Smart Meters and what the Government's position is on it, too.
So we feel that it is an appropriate time to have a quick recap on what we have by way of some fundamental, non-negotiable rights.
What the UK Government says about our rights
Hansard, 29 November 2011, reflected
 the statement by Charles Hendry MP (former Energy minister) that whilst Energy suppliers will need to take "all reasonable steps to install smart meters for all domestic and smaller non-domestic customers by 2019" – they:
"do not expect suppliers to seek an entry warrant simply to fit a smart meter and it will not be an offence for householders to refuse to accept a smart meter".
An article from The Register in February of this year (http://reg.cx/1TX7) quoted Hendry as saying the following:
"We believe that people will benefit from having smart meters, but we will not make them obligatory. If people are concerned about the electromagnetic issues, they will not be required to have one. We have been willing to give assurances to Hon Members on that account."
And David Cameron's Secretary of State for Energy & Climate Change, Edward Davey MP, issued a public response to our DontSmartMeter.me campaign in which he stated the following:
"We believe smart meters will bring important benefits to consumers… However, there will not be a legal obligation on individuals to have one."
What some energy firms are saying about our rights
Some of the comments we have heard from customer service reps from at least one Big Energy firm include the following:
"There's a new law now in place forcing people to have a Smart Meter"

"You will be forced to have a Smart Meter"

"There is a Government mandate forcing everyone to have a Smart Meter by 2019"

"There is a law coming into place in 2019 that will force you to have a Smart Meter"

"Smart Meters don't emit microwaves"

"Smart Meters do emit microwaves, but less than mobile phones"
These statements are false.  Don't be surprised if they try them out on you.
What we say about our rights
Quite simply, there is no law or legislation forcing anyone to have a Smart Meter; for our physiology and sense of well-being to be impacted, for our utility supplies to be placed onto the web, for our personal safety and security to be put at risk, for our privacy to be violated, or for our personal behaviour at home to be analysed, profiled and monetised.
Each and every one of us has indefeasible rights that cannot be given to us by another human being nor lawfully taken away from us.  We are living, breathing, human souls and we can damn well refuse a Smart Meter on whatever grounds we like.  Big Energy may try to tell us otherwise, and in the process perpetrate a fraudulent misrepresentation and distortion of reality.   Just remember that these companies provide us with a service and they are not in charge – you are!
Footnote
If you are currently in "discussion" with an energy/utility supplier who can't understand why you're not buying their expensive flannel, please get in touch with us with your story/situation.   Whilst nearly 400 people have issued Notices of Non-Consent & Liability via our www.DontSmartMeter.me campaign to date (generating over 28,000 emails!) many people have taken even more direct action by contacting their power/water companies directly.  We applaud this kind of action and it is very much necessary.  If you want to get in touch to let us know how you are doing, email us at info [at] stopsmartmeters [dot] org [dot] uk info@stopsmartmeters.org.uk
Source: http://stopsmartmeters.org.uk/
Via: https://truthersworld.co.uk/2018/07/01/a-reminder-your-rights-in-relation-to-smart-meters/