Spaghetti squash nutrition facts
Spaghetti squash is another popular winter squash cultivar in the cucurbita (gourd) family of vegetables. The spaghetti stands out from other squash varieties for its thick, pasta-like fibers and for the same reason often referred as "vegetable-spaghetti" Its low carbohydrate, nutrition-rich thicker strands are a suitable alternative to cereal noodles, especially in people with gluten sensitivity.
This squash is a fast-growing vine/bushy shrub as that of other Cucurbitaceae family vegetables and fruits such pumpkin, acorn squash, cucumber, zucchini, etc.
Scientific name: Cucurbita pepo spp.
Spaghetti squash prefers well-drained loamy soil. The plant is monoecious, bears separate male and female flowers. The fruit appears after about 45 days after the seedling and ready for harvest at 70 to 85 days. The pod is a cylindrical fruit with rounded ends and cream-yellow/orange, smooth, hard rind (skin), measuring about 7-9 inches in length and 4-6 inches in width, weighing about 3 pounds. Its thick rind is smooth with light, vertical ribs.
Inside, it features golden-yellow to orange flesh depending upon the polyphenolic pigments in it as in pumpkins. The fruit has a hollow center, with numerous small, off-white colored seeds interspersed in a net-like structure. Spaghetti seeds are an excellent source of protein, minerals, vitamins, and omega-3 fatty acids.
Health Benefits of Spaghetti squash
Like other winter squashes, spaghetti also is very low-calorie vegetables. 100 g fruit provides just 31 calories and contains no saturated fats or cholesterol; however, it is rich in dietary fiber, anti-oxidants, minerals, vitamins. The vegetable is one of the food items recommended by dieticians in the cholesterol controlling and weight reduction programs.
Its flesh along with its strands contains a good amounts of dietary fiber. This roughage binds to cancer-causing toxins and chemicals in the colon and thereby protecting its mucosa from inflammatory bowel disease (IBD), cancers, and diverticulitis. Also, it helps reduce fat absorption and blood LDL-cholesterol levels.
It carries anti-oxidant vitamins such as vitamin-A, vitamin-C, and carotenes in small amounts on comparison to pumpkins. Vitamin-A is a powerful natural antioxidant and is required by the body for maintaining the integrity of skin and mucosa. It is also an essential vitamin for healthy eyesight. Research studies suggest that natural foods rich in vitamin-A may help the human body protect against lung and oral cavity cancers.
The squash boasts higher source of the B-complex group of vitamins like folates, niacin, vitamin B-6 (pyridoxine), than in pumpkins.
It is also a modest source of minerals like zinc, copper, calcium, and phosphorus.
Spaghetti squash seeds are an excellent source of dietary fiber and mono-unsaturated fatty acids, protein, minerals, and health-benefiting vitamins.
See the table below for in depth analysis of nutrients:Spagheti squash (Cucurbita pepo spp.), fresh, Nutritive value per 100 g. (Source: USDA National Nutrient data base)

| Principle | Nutrient Value | Percentage of RDA |
| --- | --- | --- |
| Energy | 31 Kcal | 1% |
| Carbohydrates | 6.91 g | 5% |
| Protein | 0.64 g | 1% |
| Total Fat | 0.57 g | 3% |
| Cholesterol | 0 mg | 0% |
| Dietary Fiber | 1.5 g | 6.5% |
| Vitamins | | |
| Folates | 12 μg | 3% |
| Niacin | 0.950 mg | 6% |
| Pantothenic acid | 0.360 mg | 6.5% |
| Pyridoxine | 0.101 mg | 8% |
| Riboflavin | 0.018 mg | 1.5% |
| Thiamin | 0.037 mg | 3% |
| Vitamin A | 120 IU | 4% |
| Vitamin C | 2.1 mg | 3.5% |
| Electrolytes | | |
| Sodium | 17 mg | 1% |
| Potassium | 108 mg | 2% |
| Minerals | | |
| Calcium | 23 mg | 2% |
| Copper | 0.037 mg | 4% |
| Iron | 0.31 mg | 4% |
| Magnesium | 12 mg | 3% |
| Manganese | 0.125 mg | 0.5% |
| Phosphorus | 12 mg | 2% |
| Selenium | 0.3 μg | <0.5% |
| Zinc | 0.19 mg | 1.5% |
| Phyto-nutrients | | |
| Carotene-α | 16 μg | — |
| Carotene-ß | 64 μg | — |
Selection and storage
Spaghetti squash can be readily available in the markets year round. Look for well-formed fruit. Press hard with thumb to make sure there is no give. Another method to check its maturity is to try to cut the skin with your nail. Look for firm, dry, cork-like stem.
Avoid those with soft spots, cuts, bruising. Also avoid those featuring skinny, green stem.
Farmers generally cure the fresh produce before dispatching them to the market. Curing enhances life and the fruit can be transported to longer distances, and fetches good price.
At home, keep in cool place with good ventilation. Cured squash can stay fresh up to 3 months or longer when kept in a cool, dry storage area. Cut sections, however, used immediately, or preserved inside the refrigerator enveloping inside a plastic sheet for 2-3 days.
Preparation and serving methods
Wash the fruit in cool water to rid of any surface dirt. Spaghetti is generally cut in half lengthwise. Discard the seeds, and place the cut side down in an oven-safe baking pan. Drizzle some olive oil and cover the pan with ¼ inch water and microwave on high until soft. When squash is cool, scrape out the inside with a fork unidirectionally towards you to get "noodle-like" strands.
As in acorns, the parts of the plant; fruit, leaves, flowers and seeds, are edible.
Here are some serving ideas:
Noodle-like strands being seperated from boiled squash.
Photo courtesy: Rusty clark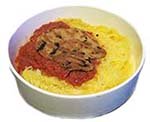 Spaghetti-squash topped marinara-sauce
Photo courtesy: Emily Allen
"Vegetable-spaghetti" can be employed in a variety of delicious recipes in place of wheat noodles.
Toss squash "noodles" with olive oil, parmesan cheese, garlic and black pepper.
The squash "noodles" topped with marinara tomato Sauce is a popular recipe.
It is also employed to prepare quiche, omelet, souffle, etc.
It is also employed in chicken, seafood recipes.
Roasted squash seeds (Pepita) can be eaten as snacks.
Source: https://www.nutrition-and-you.com/spaghetti-squash.html