Gordon says: Regardless of whether it's Smith or Smyth, Shit or Shite, it's all the same!
---
Germany's pharmaceuticals and chemicals group Bayer will wrap up the $63 billion takeover of US agrochemical giant Monsanto on Thursday, ditching the seed maker's 117 year-old name.
The deal will create the world's largest maker of seeds and pesticides, with combined sales worth about €20 billion (over $23 billion).
"Bayer will remain the company name. Monsanto will no longer be a company name. The acquired products will retain their brand names and become part of the Bayer portfolio," the German drugmaker said on Monday, adding that it had received all required approvals from regulatory authorities.
The company launched a €6 billion ($7 billion) rights issue on Sunday, shortly after clearing the last major antitrust hurdle in the US. The merged agrichemical division will be named Bayer Crop Science, according to German business newspaper Handelsblatt which cited "industry sources."
The Bayer-Monsanto merger has been strongly criticized by environmentalists and farming groups. In a letter to the European Commission before its March approval of the merger, Friends of the Earth Europe said that more than a million people had signed petitions calling on EU competition chief Margrethe Vestager to block "this merger from hell."
Last month, some 200 people demonstrated against the merger outside the German firm's annual general meeting. Bayer agreed to acquire Monsanto two years ago. It vowed not to take advantage of its market position to forcefully introduce genetically modified crops in Europe against consumers' will.
"We aim to deepen our dialogue with society. We will listen to our critics and work together where we find common ground. Agriculture is too important to allow ideological differences to bring progress to a standstill," said Bayer Chief Executive Werner Baumann.
Monsanto has a longstanding notorious reputation dating back to its production of Agent Orange, a herbicide and defoliant chemical used by the US military during the Vietnam War.
Source: https://www.rt.com/business/428626-bayer-monsanto-deal-name/
RELATED:
March against Monsanto: Global protests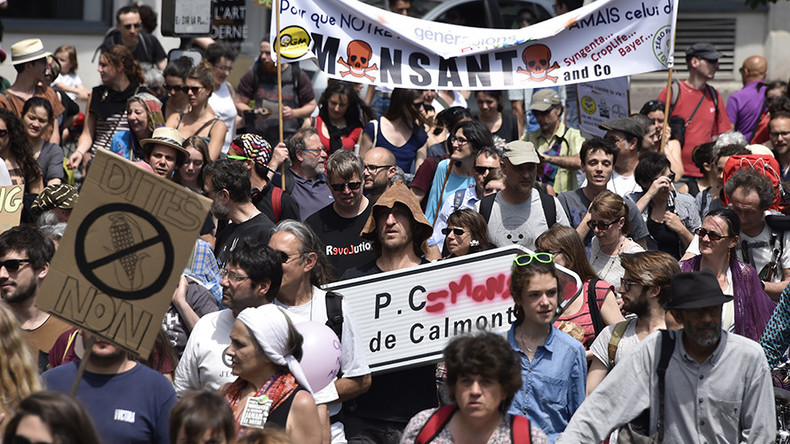 People take part in a march to protest against US biotechnology group Monsanto in Toulouse, on May 21, 2016 © Pascal Pavani / AFP
21 May, 2016
Hundreds of thousands of people are expected to join a worldwide protest against the multinational biotech and agribusiness corporation Monsanto with rallies to be held in as many as 46 countries in various parts of the world.
22 May 2016

01:15 GMT

Over 400 activists marched in Mexico's capital, Mexico City, to protest Monsanto and genetically modified crops. The protesters at the rally, which was backed by Greenpeace and several other civil organizations promoting organic food, carried signs reading "Monsanto, get out of Mexican corn," and  "Without corn there's no country."
01:12 GMT

Supporters of Argentina's left-wing Autodeterminación y Libertad [Self-determination and Freedom] party participated in the global march against Monsanto.

01:12 GMT

Hundreds of protesters marched through central Amsterdam waving anti-Monsanto banners.
00:39 GMT

Over a hundred protestors took to the streets of Quebec to join the global march against the biotech giant for the fourth year in a row. The year`s event was held under the slogan "Stronger than Monsanto!""It is true that these are companies that are extremely powerful. But we want to remind the Quebec government that it is it who has the power," said  rally`s organizer Ariane Gagnon-Légaré, as cited by Québec Hebdo.
https://www.rt.com/news/343917-global-march-against-monsanto/